Ever wondered if storing your precious jewelry in a box is the best choice? Let's unravel the simplicity behind this decision, exploring the benefits of using a jewelry box to keep your treasures safe, organized, and ready to shine.

The Power of a Jewelry Box

A jewelry box isn't just a container; it's an organizer that brings order to the delicate chaos of your favorite accessories. With dedicated compartments for rings, necklaces, earrings, and bracelets, a jewelry box ensures that each piece has its place, preventing the notorious tangle of chains or the mystery of a missing earring.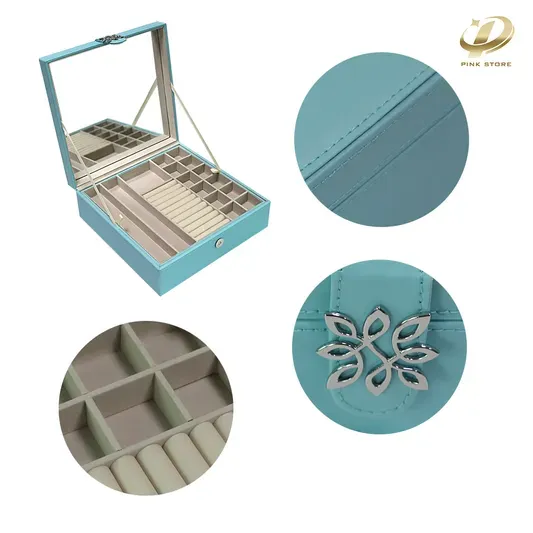 The Advantages of Storing Jewelry in a Box

Preventing Wear and Tear
Leaving jewelry scattered on a dresser or tossed into a drawer can lead to scratches, tarnishing, and general wear and tear. A jewelry box provides a cushioned and secure environment, protecting your pieces from unnecessary damage. Imagine having your favorite necklace retain its shine and your rings free from scratches – the magic lies in the box.
Shielding from Dust and Air
Jewelry, especially those with gemstones, can lose their sparkle when exposed to dust and air for extended periods. A closed jewelry box acts as a shield, keeping your pieces dust-free and safeguarding them from the air's oxidizing effects. This means your favorite gems will continue to dazzle with the same brilliance over time.
It keeps things organized, so you can easily find what you want, prevents scratches and damage, keeping your jewelry looking new. The box also helps untangle necklaces, saving you time and frustration. In simple terms, a jewelry box is like a special home for your treasures, keeping them safe, neat, and ready to shine whenever you want to wear them.
Conclusion

At Pink Store, we believe that a jewelry box is not just a storage solution; it's a statement of elegance and functionality. Our range of meticulously crafted boxes is designed to cater to the unique needs of your jewelry collection. We, at Pink Store, understand the value of preserving the elegance of your jewelry. Our jewelry boxes are not mere containers; they are a fusion of style and practicality. From preventing tangles to shielding from dust, our boxes are crafted with your treasures in mind, ensuring they remain as beautiful as the day you acquired them.